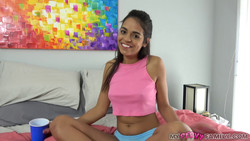 My daughter has been dropping hints to me all week long.. Not subtle hints either. I've gotten to know her "fuck me eyes" all too well. Every corner I turn, she seems to be there looking up at me with her big brown eyes..
I can't even take a shower without her trying to come in! I don't know what has gotten into my daughter, but she is about to cross a very taboo line.
Can you please fix my shower daddy?!
I will, but let me dry off and get dressed first
Let me jump in the shower with you!
No, you shouldn't do that sweetie!
Why not? You've already got the water on
My daughter drops her towel to the floor, showing her smooth bare body-
Don't do that! Come on baby, cover yourself up!
I push my daughter out of my bathroom, and rush to get dressed. There has to be a way to end this innapropriate behaviour..
Cast: Vienna Black
Info
Format: MP4
Resolution: 1920×1080
Duration: 00:22:02
Size: 488.39 MB